Personal Management Merit Badge
Citizenship in the Nation Merit Badge
* Gettysburg Address + Preamble to the Constitution (Zoom session 06/02/20)
* Declaration of Independence (Zoom session 06/16/20)
* Separation of powers, checks and balances (Zoom session 06/23/20)
* The Constitution (body) (Zoom session 06/30/20)
* The Electoral College (Zoom session 07/07/20)
* Amendments 1,5,6 (Zoom session 07/07/20)
* Amendments 2,3,4,7,8,9,10 (Zoom session 07/14/20)
* Amendments 11-27, stress on 14th (Zoom session 07/21/20)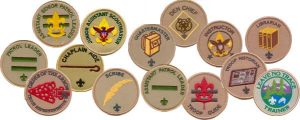 Citizenship in the Community Merit Badge
Junior Leader Training Videos

Scout Rank Requirement 6a
Five exercises scanned from the Scout Handbook Parent's Guide insert. These are needed to fulfill Scout rank requirement 6a. Click here to download. Note that you will have to redo the same five exercises in order to reach Star Scout.
Requisito de Rango Scout 6a
Scout Rank Requirement 6b and Star Rank Requirement 6b
The requirements for earning a Cyber Chip for either Scout Rank or Star Rank are posted on this BSA site: Click here to access.
Weather Resources
Guest speaker Mark Smith's favorite weather resources, and links to his fascinating Amelia Earhart work.
Find North with a Stick
Three Videos for 2nd Class First Aid (from YouTube)
Video for 1st Class 6d – Positioning in a Watercraft
[Click here] 6d. Describe proper body positioning in a watercraft, depending on the type and size of the vessel. Explain the importance of proper body position in the boat.
Video Conference – 1st Class Constitutional Rights and Obligations